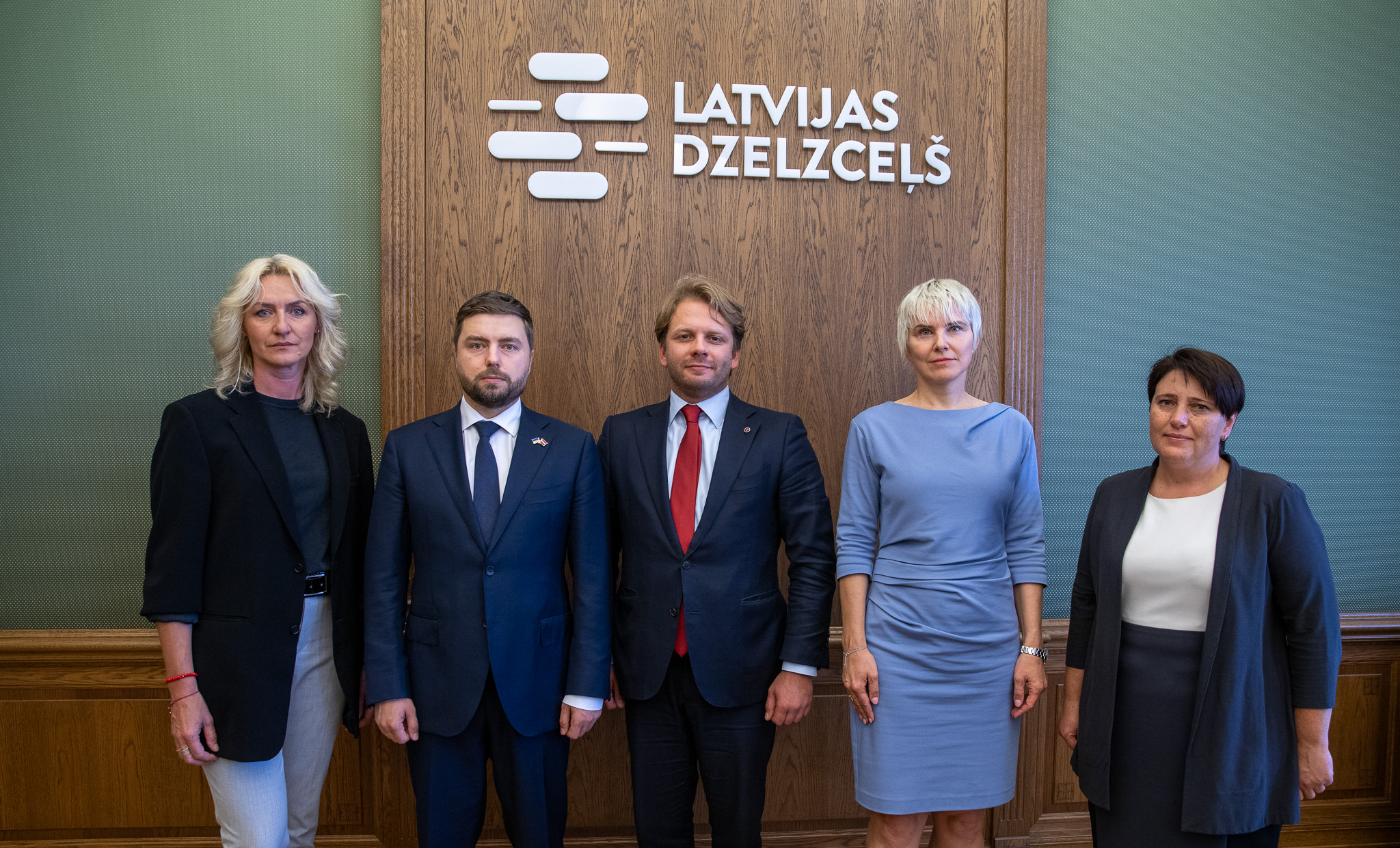 English
Management of SJSC "Latvijas dzelzceļš" earlier this week met with Ambassador of the Ukraine to Latvia, H. E. Mr Anatolii Kutsevol to discuss cooperation in grain transportation from Ukraine to Latvian ports and other developments. Both sides agreed that the Baltic countries, together with Ukraine and Poland, need to have a common vision in planning of the existing European rail freight routes.
During the meeting, Rinalds Pļavnieks, Chairman of the Board at SJSC "Latvijas dzelzceļš" (LDz), noted the close and collegial relations between LDz and Ukrainian Railways and the evolving cooperation between the two companies. Commenting on Ukrainian grain transportation, H.E. Anatolii Kutsevol said that he had already visited all three Latvian ports, assessed their capacities, and considered it essential to strengthen cooperation in transporting Ukrainian grain to Latvian ports, including by rail.
SJSC "Latvijas dzelzceļš" Chairman of the Board Rinalds Pļavnieks said: "By combining rail and road transport, it is possible to find a new solution for transporting Ukrainian grain and other freights, providing additional capacity to the already existing transport opportunities, and this option should be further developed and utilized. The Latvian railway infrastructure as well as our ports have sufficient capacity to handle these freights, and development of cooperation in this area would be very important for all parties involved."
In the North Sea – Baltic Sea rail freight corridor, Riga has become part of the European rail freight corridors' network and Ukraine is interested in expanding this corridor. During the meeting, representatives of LDz and the Embassy of Ukraine acknowledged the need to achieve a common vision between the Baltic countries, Poland and Ukraine in the expansion of rail freight routes, so that these plans could be implemented in the future as part of European rail projects.
Also during the meeting, the management of LDz and its subsidiary "LDZ ritošā sastāva serviss" presented their services to the Ukrainian Ambassador and discussed opportunities for cooperation with Ukrainian Railways in providing such services as rolling stock renovation, repair of locomotives, wagons and track machines. LDz also confirmed its readiness to consider cooperation in reconstruction of the Ukrainian railway infrastructure.