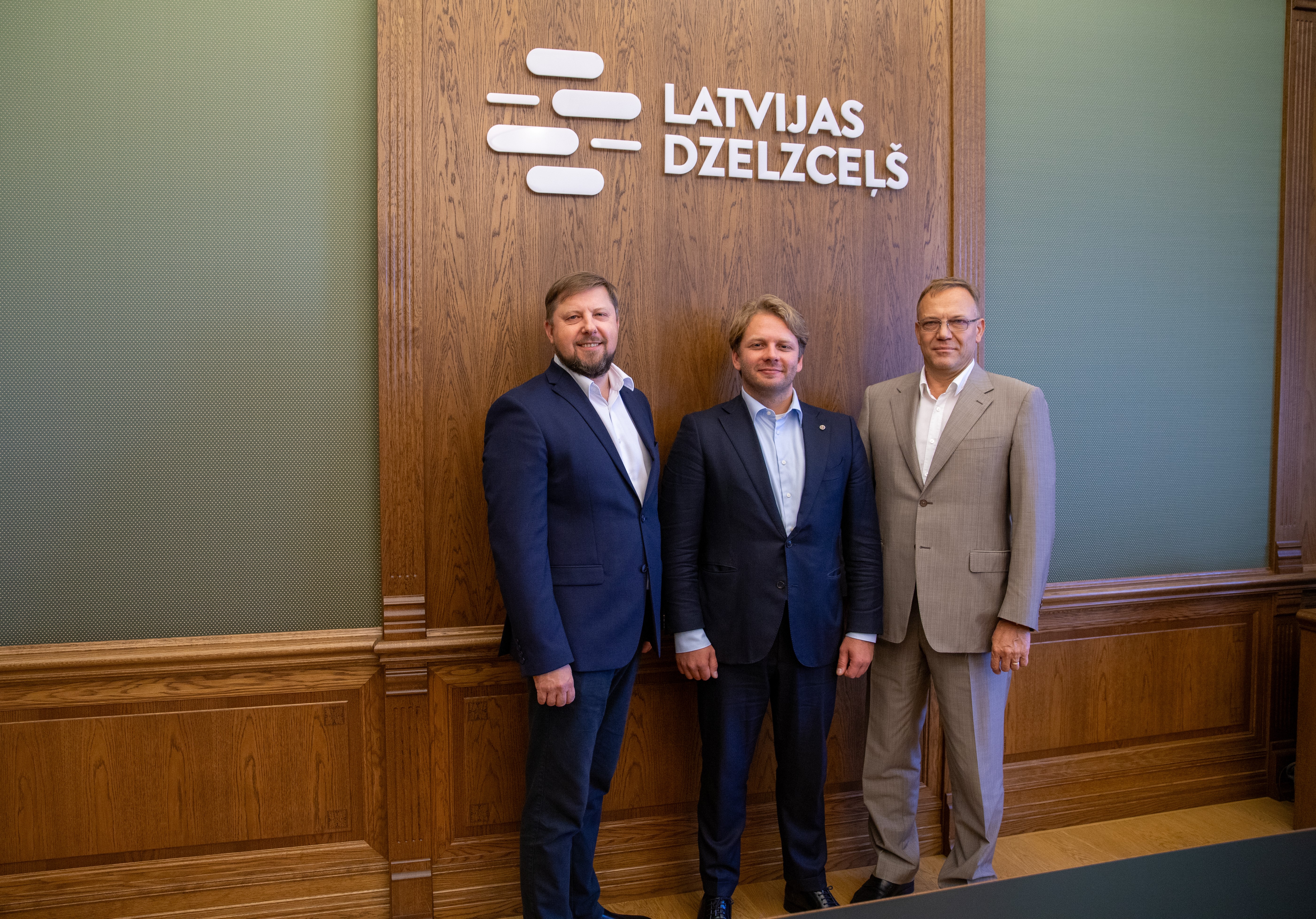 English
Heads of the Baltic railway companies held a meeting in Riga on September 4. During the meeting, SJSC "Latvijas dzelzceļš" (LDz) Chairman of the Board Rinalds Pļavnieks, Estonian Railways (Eesti Raudtee) Chairman of the Board Kaido Zimmermann and Lithuanian Railways (Lietuvos Geležinkeliai, LTG) CEO Egidijus Lazauskas discussed the latest developments in freight transport, progress with the Amber Train project, and agreed on further cooperation in organizing rail transport in the Baltic countries and other issues.
The meeting of the heads of the Baltic rail companies in Riga was organized to discuss progress with several projects important for all three countries, including the joint project Amber Train: currently LDz subsidiary LDZ CARGO Ltd. is carrying out financial and legal coordination with Lithuanian rail carrier LTG Cargo for the launch of the project. LDZ CARGO, as a carrier that also operates in Estonia, is ready to perform the functions of an operator in two countries within the Amber Train project. LDZ CARGO and LTG Cargo intend to finalize technical details of the project in the near future, and a launch date for the Amber Train project is expected soon.
Rinalds Pļavnieks, Chairman of the Board at SJSC "Latvijas dzelzcelš", comments: "Amber Train is a tripartite cooperation project that we have been working on together with the neighbour countries for several years, and it is now evident that the parties involved are very motivated to finally make it a regular service for customers. Freight transport by rail in the Baltic countries, which all have technologically similar rail systems, will provide both a new type of sustainable transport solution for local freight shippers and the opportunity to work together in order to increase competitiveness of our region as a whole by connecting the Baltic countries and Finland with Central and Western Europe. Some details still need to be agreed upon so that regular Amber Train services could soon commence on LTG Cargo's train routes from Kaunas to Duisburg (DE) and Slawkow (PL)."
At the meeting, the heads of the Latvian, Lithuanian and Estonian railways also discussed organization of intra-Baltic rail transport with an independent data exchange system. On the initiative of SJSC "Latvijas dzelzceļš", work has already started on an alternative operational management system in cooperation with Estonian Railways, which is expected to be completed in 2024. The management of the three Baltic railway companies is interested in secure and interoperable data exchange as soon as possible, which is why during the meeting LDz, Eesti Raudtee and LTG agreed to set up a task force to develop and adapt an independent rail traffic management and wagon condition management system for freight transport in the three Baltic countries in a relatively short period of time.