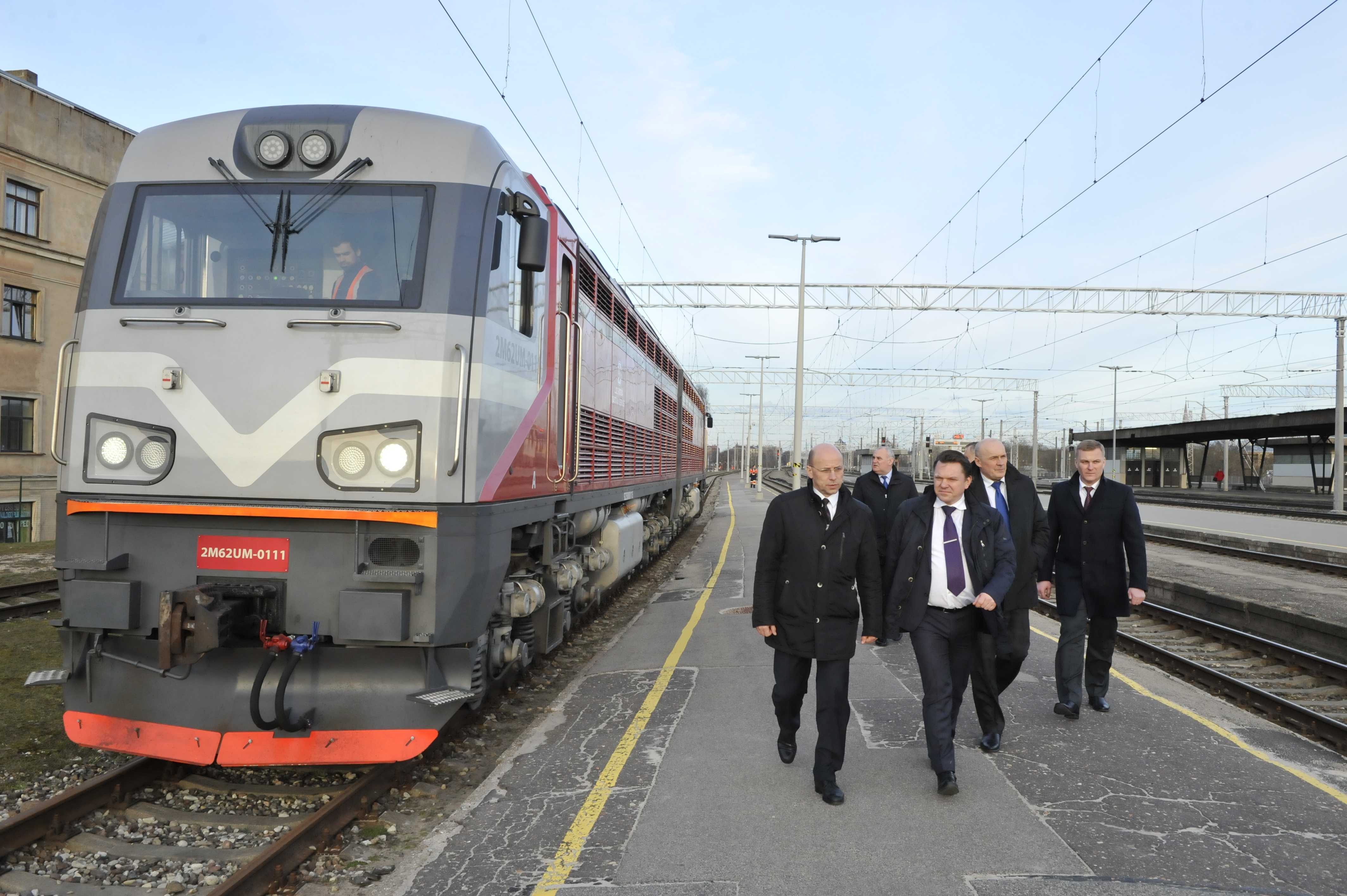 English
During the visit in Riga, Head of Belarusian Railways Vladimir Morozov also attended the Central Railway Station, where he looked at the modernised 2M62UM series diesel locomotive, which was demonstrated to him by President of Latvian Railways Edvīns Bērziņš, Board Member Ēriks Šmuksts and Chairman of the Board of SIA "LDz Loģistika" Verners Lūsis.
Mr.V.Morozovs visited Riga this week in order to discuss with President of Latvian Railways Edvīns Bērziņš future cooperation of railways of both the countries, especially focussing on fostering the amounts of the railway freight transportation.
V.Morozov's visit took place shortly after SJSC Latvian Railways had opened its representation office in Minsk in the beginning of this year, and already during the first months of the year a positive tendency in the amounts of rail freight transportation has been observed. The total amount of rail freight between both the countries during the two months has increased by 15.4%, but the amounts of the containerised cargos - by 185%.
"Belarus historically, as well as - thinking in terms of developing new directions for rail freight transportation, is one of our most significant cooperation partners.  An acknowledgement to that is the Permanent Representation office of Latvian Railways opened in Minsk in January this year, the task of which is to strengthen mutual cooperation and to facilitate the growth of the rail freight amounts between Latvia and Belarus. Cooperation with the neighbouring country is important to us not only in terms of freight exchange, but also in terms of attracting new cargo flows."
It is essential that in Belarus, in cooperation with the Chinese investors a huge industrial park - "Great Stone" is being constructed, as well as a great part of cargos coming from China and other Asian countries to Europe cross the territory of Belarus," says LDz President E.Bērziņš.
The Representation of Latvian Railways has an important role in development of future cooperation between the countries. Its main task is to foster development of business relations with Belarusian Railways and other companies and organisations of the industry and to facilitate attracting of cargos to the Latvian transit industry. At the same time, the aim of the representation office is in cooperation with Belarusian logistics companies to enhance active involvement of Latvian logistics industry into the global logistic chains, including freight corridors from China, Turkey and South Asia.