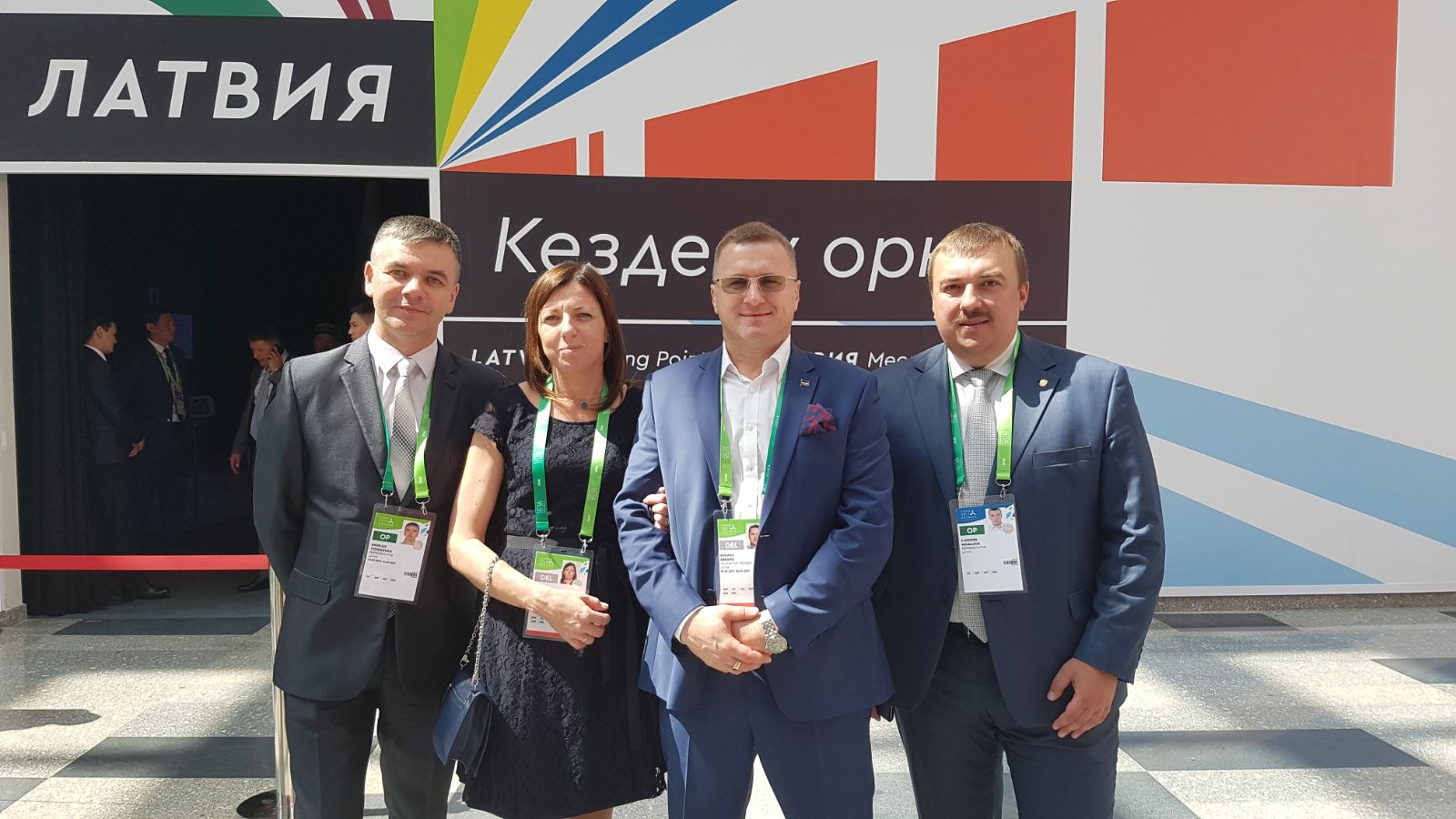 English
Within the framework of Latvian Transit and Logistics Week organised by SJSC "Latvian Railways" (LDZ) during the international exposition Astana EXPO 2017, SIA "LDZ ritošā sastāva serviss" (LDZ RSS) confirmed that the environmentally friendly railway transport can be made even more efficient and "greener" by modernising locomotives, fuel bases and equipping points.
During the discussion "Development of a Green Economy in the transport sector" held during Latvian Transit and Logistics Week, Chief Engineer of LDZ RSS Mr. Fjodors Mihailovs told that after upgrade of several ChME3M shunting and 2M62UM mainline locomotives, their fuel consumption, CO2 emissions, as well as the number of necessary maintenance of locomotives have considerably decreased.
"Data shows that after modernization, the locomotives operate considerably more efficiently - fuel consumption has decreased by 40%, thus diminishing the impact on environment, in turn - CO2 emissions have decreased by 25% during the 5 years. Thus, the upgraded locomotives are both - more environmentally friendly, as well as - from the operational point of view - more cost-effective for the carriers," said Mr. Mihailovs.
Kazakhstan colleagues were also acquainted with the company's accumulated experience in environmental protection. In addition to the upgrade of locomotives, LDZ RSS has been carrying out environmental remediation of historical pollution places at the locomotive equipping points in Daugavpils, as well as repair depots, where several decades ago systematic draining of oil and other substances took place.
It must be pointed out that also Kazakhstan Railways are implementing new environmental solutions. Chief Engineer of Kazakhstan Railways Mr. Batir Kotirev stressed that emissions are inevitable on railway, nevertheless, Kazakhstan Railways has prepared a strategy to gradually decrease the emissions by 2-3% per year - by modernising the rolling stock, replacing the heating system, as well as saving energy resources in their day-to-day work.
During Latvian Transit and Logistics Week, LDZ RSS's delegation also visited Kazakhstan Railways, where they attended the newly constructed Astana Railway Station. It is planned that the station will serve about 12 million passengers annually. However, it must be noted that presently the station is situated on the outskirts of the city, but soon, with the growth of the city, the station will be in the city centre, said the station staff. 
When attending the diesel locomotive assembly factory of Kazakhstan Railways, LDZ RSS's delegation witnessed manufacturing of TE33A and TEP33A type of locomotives under the "GE Transportation" (USA) licence. But later on they attended the factory, where electric locomotives of KZ4AT and KZ8AT type under ALSTOM licence are manufactured. RSS's representatives and Kazakhstan colleagues discussed production planning principles, locomotive servicing during warranty and post-warranty periods, organisation of personnel training, as well as storage issues, that are essential in locomotive modernisation process in Latvia.
It has already been reported that this year at the Astana EXPO, Latvian Railways together with the Canadian partners "Ballard Power Systems" and the Check company "CZ Loko" presented an innovative solution -  a model of ChME3 H2 M hydrogen locomotive. It is planned to develop such locomotives to make railway more environmentally friendly, since they do not release emissions into the air.
Implementing the project will put Latvia amongst the leaders in introduction of hydrogen technologies in railway industry, concluded the participants of the discussion "Development of a Green Economy in the transport sector" on 13 July, 2017, in Astana.
Vice-president of Latvian Railways Mr. Ainis Stūrmanis believed that integration of environmental issues into economy, including railway industry, is very topical today, because Latvia has defined itself a task to become the greenest country in the world. He stressed that many countries more often choose environmentally friendly means of transport for carrying passengers, as well as freights, even though it is more expensive. "Currently we are working to create, as far as we know, the first hydrogen shunting locomotive", said Mr. Stūrmanis.